Last week
Ingrid

Schlueter
at
Slice of Laodicea
spoke out about
Ray Comfort
preaching
alongside Word of Faith Heretics again
.
Now Ray Comfort is a brother whom I love, and his ministry Way of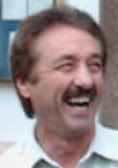 the Master has been more than helpful to me in the past,
(in fact we still recommend it and
WOTM-Radio
)
but in this instance he is wrong.
And let me start by saying that no-one here is claiming Ray Comfort is a false-teacher,
(I agree with Ingrid when she wrote: "Ray Comfort is a brother in the Lord who I have greatly appreciated." )
, but simply that he is very wrong on this issue.
I must also say that I find the attitude by some that Ray Comfort is infallible and beyond correction to be almost cultic.
If a brother is in error
(especially one of this magnitude)
then we are commanded to confront them. The Apostle Paul confronted Peter, not because he was being unloving, but rather because he was being loving, as Peter's mistake was causing people to be led astray. Sharing a platform with these
Word Faith heretics
without addressing that they are a false religion is just as bad.
Largely due to a lack of education in the church, people seem to underestimate just how far from Christianity Word Faith/God TV is. It is not just another denomination with a few erroneous teachings, it is another gospel with another Jesus. It has its roots in Arianism and is closer to Scientology than Christianity.
Ray Comfort and others from WOTM have appeared several times now with Word Faith heretics with the pragmatic argument that WF victims are getting "the biblical gospel" they wouldn't normally hear. But in each appearance so far, Ray and co have failed to warn the victims of Word Faith, that they are under false-teachers with another gospel and another Jesus.
Forget pragmatism, if a Jehovah's Witness or a Mormon knocked on my door, and I took them through the WOTM
("have you lied, stolen" etc)
, then no matter how clearly, I explained the Gospel to them, if I refused to warn them that they are under false teachers and that their Jesus is a different Jesus than the real Jesus in the Bible, then I have not witnessed to them PERIOD.
Now that said, I think if invited it is fine to go and preach to these people providing you're not going to compromise, and so you do clearly warn people about the false teachers.
Jesus preached in the temple which was full of apostate false teachers, however his message was:
-

"My house shall be called a house of prayer,' but you make it a den of robbers."
Mat 21:13
.


-"But woe to you, scribes and Pharisees, hypocrites!
For you shut the kingdom of heaven in people's faces"
.
Mat 23:13
.
-

"Watch and beware of the leaven of the Pharisees and Sadducees"
-Mat 16:16
WOTM have done several TBN shows now in which they have not given the slightest impression there is anything wrong with Word Faith. But
no-one walked away from the preaching of Jesus without
fully
being warned that the false teachers are dangerous
.
So my plea to Ray and co is,

if he really wants to do Evangelism "the way Jesus did it", then he must clearly warn these people that they are under false teachers. Otherwise it simply is not "the way Jesus did it."
Recently many Christians have been more than a little perplexed to see that people who they believed to be genuine Christians have been deceived by the false prophet
Todd Bentley
. Yet it is largely because of respected Biblical teachers appearing on God TV/TBN/Word Faith and
not
speaking out against them, that the lines have been blurred and so people have been deceived into thinking Word Faith can't be all that bad.
1 Cor 5:11
"But now I am writing to you

not to associate with anyone who bears the name of brother …

"
-i.e. they are a professing Christian, which includes Word Faith Heretics.
"
…if he is guilty of sexual immorality or

greed

,

or is an idolater

, reviler, drunkard, or

swindler

—not even to eat with such a one."
Now the fact that Scripture commands it is wrong to keep on going to these places but avoiding to warn them, is not even debatable, nor is
Rom 16:17-18
, but the last thing I want to note here is that many of Ray's followers have accused anyone who disagrees with him on this by pleading:
"You're gossiping."
"Judge not lest you be judged".
"There's lost people there and he's preaching the Gospel".
But wind back the time to when Billy Graham was preaching alongside the Pope on a Roman Catholic mission, without warning people that Roman Catholicism is wrong, and try using the same arguments against those who spoke out against what Graham was doing:
"You're gossiping."
"Judge not lest you be judged".
"There's lost people there and he's preaching the Gospel".
So my prayer is that Ray will do it the way Jesus did and fully warn these people about their false teachers and teachings, leaving them with no other impression than that the

Word of Faith cult

is a damnable heresy.
Ezek 3:17
"
"Son of man, I have made you a watchman for the house of Israel. Whenever you hear a word from my mouth, you shall give them warning from me. 18 If I say to the wicked, 'You shall surely die,' and you give him no warning, nor speak to warn the wicked from his wicked way, in order to save his life, that wicked person shall die for his iniquity, but his blood I will require at your hand. 19 But if you warn the wicked, and he does not turn from his wickedness, or from his wicked way, he shall die for his iniquity, but you will have delivered your soul. 20 Again, if a righteous person turns from his righteousness and commits injustice, and I lay a stumbling block before him, he shall die. Because you have not warned him, he shall die for his sin, and his righteous deeds that he has done shall not be remembered, but his blood I will require at your hand. 21 But if you warn the righteous person not to sin, and he does not sin, he shall surely live, because he took warning, and you will have delivered your soul.
"


See also:
A Call for Discernment-Justin Peters Exposes the Word of Faith Cult
.
Also
(added Jul 10)
:

Ingrid Schlueter's Slice Cast
The New Apostolic Reformation, Ray Comfort and Thoughts on Blogging
(Discusses Ray at WF, about 30 min in, the 1st part is about New Apostolic Reformation & Todd Bentley)

Also

(added Jul 23):

John Avanzini and His Talking Stones

. An account of the false prophet at the conference Ray spoke at.


&:

CrossTalkAmerica-World Faith False Teachings

.